If you are a fan of the classic horror film "The Silence of the Lambs", you might be interested in visiting the house where the infamous serial killer Buffalo Bill lived and kept his victims. The house is located at 8 Circle St. in Perryopolis, Pennsylvania, and it was featured extensively in the climactic finale of the 1991 movie starring Jodie Foster and Anthony Hopkins.
About Silence of the Lambs
The movie is based on the 1988 novel of the same name by Thomas Harris, and it follows the story of Clarice Starling, a young FBI trainee who is assigned by her boss, Jack Crawford, to interview Dr. Hannibal Lecter, a brilliant psychiatrist and cannibalistic serial killer who is imprisoned in a maximum security facility. Starling hopes to get Lecter's help in catching another serial killer, nicknamed Buffalo Bill, who kidnaps, kills, and skins overweight young women.
As Starling and Lecter engage in a psychological game of cat and mouse, they develop a complex and twisted relationship that challenges Starling's morals and identity. Meanwhile, Buffalo Bill continues his killing spree, and his latest victim is Catherine Martin, the daughter of a prominent senator. Starling must race against time to find Buffalo Bill before he kills Catherine and makes a suit out of her skin.
The movie is widely regarded as one of the greatest and most influential films of all time, especially in the horror and thriller genres. It won five Academy Awards, including Best Picture, Best Director, Best Actor, Best Actress, and Best Adapted Screenplay.
It also features iconic scenes and lines that have become part of pop culture, such as Lecter's "fava beans and a nice Chianti" speech, Buffalo Bill's"it puts the lotion in the basket" demand and Starling's "quid pro quo" exchange with Lecter.
The Buffalo Bill House Silence of the Lambs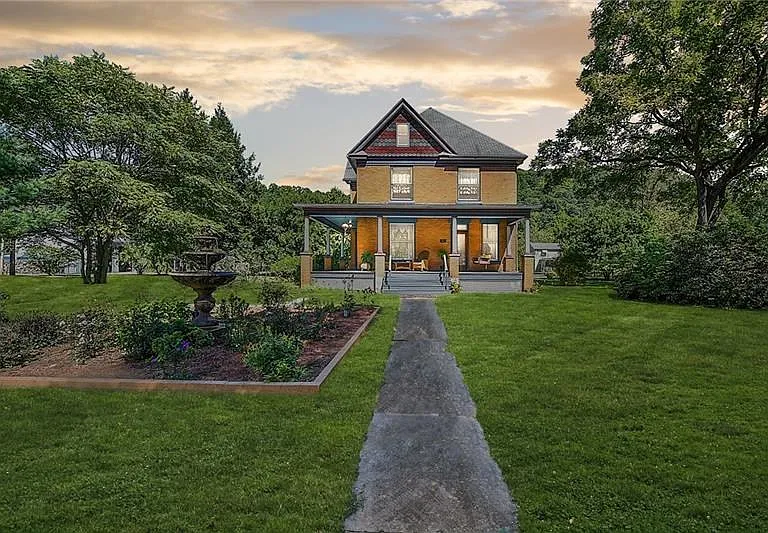 The house is a charming 1910 Victorian-style home that still retains many of the original features that were seen in the film, such as the wallpaper, hardwood floors, pocket doors, and fireplaces. The house also has a rare vintage 1941 C&O Chessie train caboose on the property, which adds to its unique appeal.
The house's current owners are Chris Rowan and his partner, who bought it in 2020 for $290,000. They are huge fans of the film and decided to turn the house into a cinematic destination where other fans can experience the thrill of staying overnight or taking a guided tour of the iconic location.
The owners have also recreated some of the most memorable scenes from the film in the basement, such as Buffalo Bill's workshop of horrors and the interactive well where he kept his captive, Catherine Martin. Guests can take photos and videos in these sets and relive their favorite moments from the movie.
The house also has a lot of memorabilia from the movie, such as posters, scripts, awards, and autographs. Guests can also watch the movie on a big-screen TV in the living room or listen to the soundtrack on vinyl records.
Buffalo Bill Silence of the Lambs house is also available for on-location filming and photoshoots for TV, film, and other media projects.
If you want to book an overnight stay or a guided tour at Buffalo Bill's House, you can visit their website at https://buffalobillshouse.com/ or call 1.833.BUFFBILL. The rates vary depending on the season and availability, but they usually range from $295 to $595 per night for up to eight guests. The guided tours are offered on select dates and cost $95 per person.
Silence of the Lambs Trivia
The Silence of the Lambs is one of only three films ever to win all the "Big Five" Oscars—Best Picture, Actor, Actress, Director, and Screenplay. The other two were It Happened One Night in 1935 and One Flew Over the Cuckoo's Nest in 1976.
Jodie Foster claims that during the first meeting between Dr. Hannibal Lecter and Clarice Starling, Anthony Hopkins's mocking of her southern accent was improvised on the spot. Foster's horrified reaction was genuine since she felt personally attacked. She later thanked Hopkins for generating such an honest reaction.
Anthony Hopkins studied files of serial killers, visited prisons, and attended court hearings of gruesome murderers to prepare for his role as Lecter. He also suggested that Lecter should wear a white jumpsuit instead of a yellow or orange one to make him look more clinical and unsettling.
Jonathan Demme filmed the scene where Lecter and Starling first meet in a way that Lecter would look directly at the camera as it panned into his line of sight. He felt Lecter should be portrayed as "knowing everything".
The head in a jar that is seen in Buffalo Bill's basement belongs to the film's co-producer, Edward Saxon.
Several famous directors made cameo appearances in the film, such as David Lynch, George A. Romero, and Ted Tally.
The film's screenwriter, Ted Tally, based his adaptation on Thomas Harris's novel of the same name. He also consulted with FBI agents who specialized in behavioral science and criminal profiling to make the script more realistic.
The film's title refers to a traumatic childhood memory of Clarice Starling, where she heard the screaming of lambs being slaughtered on a farm. She tells Lecter that she still has nightmares about it, and he suggests that she hopes to silence them by saving Catherine Martin, Buffalo Bill's latest victim.
The film features several references to moths and butterflies, which symbolize transformation and rebirth. Buffalo Bill places a death's-head hawkmoth in the mouths of his victims, as he sees himself as transforming them into his ideal woman. Starling finds a cocoon of a black witch moth in one of the victim's throats, which leads her to discover Bill's identity. Lecter escapes from custody by using a piece of a pen to unlock his handcuffs and then disguises himself with the face of a guard he killed. The pen piece is shaped like a butterfly.
The film's climax, where Starling pursues Buffalo Bill in his dark basement, was inspired by a real-life FBI case. John Douglas, one of the agents who consulted with Tally, recounted how he chased a serial killer named Robert Hansen in Alaska, who had kidnapped and tortured several women. Douglas had to navigate through Hansen's house, which was filled with animal heads and trophies, while Hansen hid in the shadows with a rifle.
These are just some of the fascinating trivia facts about The Silence of the Lambs that reveal how much thought and effort went into making this masterpiece of cinema.
Your Questions About Buffalo Bill and Silence of the Lambs Answered
Who Played Buffalo Bill in "The Silence of the Lambs"?: Buffalo Bill was portrayed by actor Ted Levine in "The Silence of the Lambs."
What Song Does Buffalo Bill Dance to in "The Silence of the Lambs"?: Buffalo Bill dances to the song "Goodbye Horses" by Q Lazzarus in the iconic scene in the film.
Where Did Buffalo Bill Live in "The Silence of the Lambs"?: In the film, Buffalo Bill lived in an isolated, eerie house in Belvedere, Ohio. However, this location was fictional, and the house used for filming is in Perryopolis, Pennsylvania.
When Do We First Meet Buffalo Bill in "The Silence of the Lambs"?: We first meet Buffalo Bill early in the film when he abducts his first victim, Catherine Martin.
What Does Buffalo Bill Say in "The Silence of the Lambs"?: Buffalo Bill has several lines of dialogue throughout the film, but one of the most famous lines is when he says, "It rubs the lotion on its skin or else it gets the hose again," as he speaks to his captive, Catherine Martin.
Who Was Buffalo Bill in "The Silence of the Lambs"?: Buffalo Bill, whose real name is Jame Gumb, is a fictional character in "The Silence of the Lambs. He is a serial killer who abducts and murders women and is a central character in the film's plot.
What Was the Name of Buffalo Bill's Dog?: In the film, Buffalo Bill had a dog named Precious. Precious is a small dog that is seen in some scenes with Buffalo Bill.
Buffalo Bill's House is a must-see attraction for any horror fan who wants to immerse themselves in the world of "The Silence of the Lambs". It is also a great opportunity to explore the scenic Laurel Highlands region of Pennsylvania, which offers many outdoor activities and historical sites. Whether you are looking for a spooky adventure or a cozy getaway, Buffalo Bill's House will not disappoint you!